Outstanding Professional — Rachel R. McAnallen '10 Ph.D. (Educational Psychology – Gifted and Talented)
Known as "Ms. Math" to children across the country, Rachel McAnallen has devoted her life to sharing the joy of mathematics with learners of all ages. A professional educator for more than 60 years, she travels the globe teaching her love of mathematics at every grade level. In addition to her experience in the classroom, McAnallen has served as a department chair, a school board member, and a high school administrator. A lifelong learner, McAnallen received her Ph.D. from the Neag School at age 75.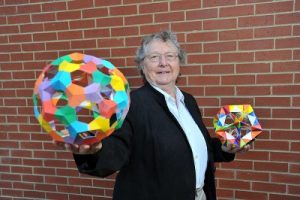 ---
Outstanding Higher Education Professional — D. Betsy McCoach '01 MA, '02 6th Year, '03 Ph.D. Currently, Professor of Educational Psychology in the Research Methods, Modeling & Evaluation
A faculty member at the Neag School in educational psychology for over 15 years, Betsy McCoach also directs the Data Analysis Training Institute of Connecticut (DATIC) and the Modern Modeling Methods (M3) Conference, both of which bring international experts to UConn. She is the current co-principal investigator of a $3 million National Science Foundation grant on the science of learning and the National Center for Research on Gifted Education, funded by a $5 million grant through the Institute for Education Sciences. McCoach is an established scholar, having authored or co-authored nearly 100 peer-reviewed journal articles, dozens of book chapters, and four books.
---